CA Legislature Greenlights College Athletes Bill by Skinner and Bradford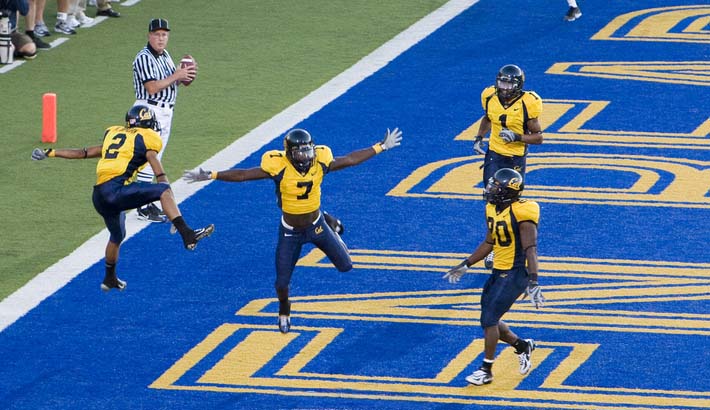 The California state Senate today unanimously approved SB 26, a bill by Senators Nancy Skinner, D-Berkeley, and Steven Bradford, D-Gardena, that will move up the effective date of California's Fair Pay to Play Act to Sept. 1, 2021. SB 26, which is co-authored by California Senate Republican Leader Scott Wilk, R-Santa Clarita, will also expand and strengthen the rights of college athletes to earn money from their name, image, and likeness (NIL).
The Senate voted 35-0 to greenlight SB 26 after the bill won unanimous approval last week from the state Assembly on a 73-0 vote. SB 26 has received zero "no" votes this year, and now heads to Gov. Gavin Newsom for consideration.
"California broke the NCAA's stranglehold on student athletes, sparking a national movement when we enacted SB 206, the Fair Pay to Play Act, two years ago," Sen. Skinner said. "More than 25 states followed, giving student athletes the right to earn money from their name, image, and likeness. Collectively, we forced the NCAA to abandon its exploitive rules. Now, California is taking the lead again with SB 26 to accelerate the implementation of our NIL law and ensure that our college athletes' rights are fully protected."
"I have been an athlete. I have been a coach. Sports are an important part of my life and that of so many people. Even in sports, we need to have justice. It has never sat right with me that college sports is a multibillion-dollar industry, with the president of the NCAA, commissioners, and football coaches making millions of dollars each. Yet the stars of the show, the student athletes – many of whom are people of color and who put butts in seats – are not compensated for their immense effort and talent. We all can recognize that is morally bankrupt," Sen. Bradford said. "Taking a stand to free our college athletes from the bondage of the chattel system of college sports with SB 206 was a game-changer, and speeding up the timeline for its implementation to Sept. 1, 2021 with SB 26 is an absolute necessity."
"Our athletes should not be waiting on the sidelines. After all, this was our idea," added Sen. Wilk, who also co-authored SB 206.
After Gov. Newsom signed SB 206, the Fair Pay to Play Act, into law in September 2019 on LeBron James' HBO show, 26 other states followed California and enacted similar laws, granting NIL rights to college athletes. Fourteen of those state laws have already gone into effect or will take effect this year, in advance of California's law, which takes effect Jan. 1, 2023.  
Then, in late June, the U.S. Supreme Court ruled in "National Collegiate Athletic Association v. Alston" that the NCAA must abide by anti-monopoly laws and does not have blanket authority to deny the rights of college athletes when it comes to compensation.
Those developments compelled the NCAA to finally disband its longstanding rules that prohibited college athletes from earning money, effective July 1.
However, in states that do not have an NIL law or in those like California where the NIL law has not yet taken effect, the NCAA has decided to allow colleges and universities to develop their own rules.
Enacting SB 26 with the Sept. 1 implementation date will clear up any confusion that California schools and college students might have about NIL rights in California. It will also ensure that all California colleges and student athletes will compete on a level playing field.
Enacting SB 26 immediately will also protect the rights of California colleges and universities, because the Fair Pay to Play Act includes safeguards that prohibit college athletes from signing endorsement deals that conflict with their school's deal when it comes to official team activities.
SB 26 also strengthens the Fair Pay to Play Act by allowing college athletes to earn money from their "athletic reputation." The concept of athletic reputation has been adopted by other states and embraced by the NCAA, and it will ensure that a college athlete can identify in ads and endorsements what school they attend.
Finally, SB 26 also adds California Community Colleges to the Fair Pay to Play Act.