Skinner and Bradford Move Up Effective Date of Fair Pay to Play Act to Sept. 1, 2021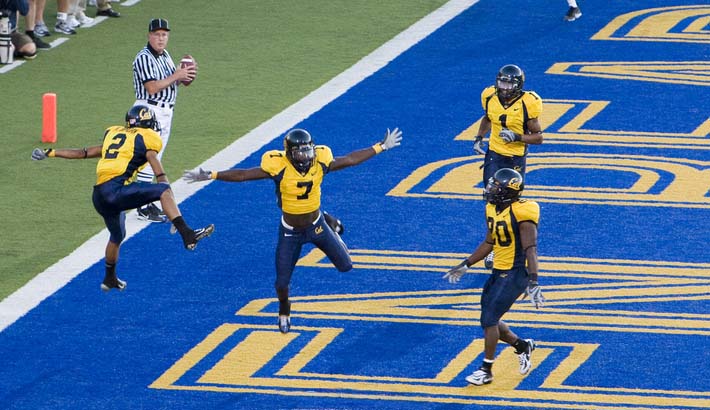 California state Senators Nancy Skinner, D-Berkeley, and Steven Bradford, D-Gardena, announced today that they're amending their legislation, SB 26, to move up the implementation date of California's Fair Pay to Play Act to Sept. 1, 2021. The announcement came as SB 26 was being approved unanimously by the Assembly Committee on Arts, Entertainment, Sports, Tourism, & Internet Media. In addition, Skinner and Bradford recently amended SB 26 to include California community colleges under the Fair Pay to Play Act.
"California kicked off state action to challenge the NCAA's exploitation of college athletes, and today the Supreme Court essentially agreed telling the NCAA they could no longer function as a monopoly 'price fixer.' And with 18 states following California's lead to give student athletes ownership of their name, image, and likeness, student athletes are the winners," said Sen. Skinner.
"But we also need SB 26 to ensure that California stays on top and our athletes enjoy the right to earn money from their talent and hard work right away," Skinner added.
"Moving up the effective date of the Fair Pay to Play Act is a sensible step to ensure that college student athletes, many of whom are people of color, are treated with financial fairness and economic empowerment sooner. It also allows California's higher education institutions to attract the best talent as compared to schools in other states that would otherwise have a leg-up in attracting athletes by implementing similar policies sooner," said Sen. Bradford. "In addition, folding the California Community Colleges system to create a uniform approach throughout our higher education institutions simplifies and creates more harmony in college sport and will make is easier to implement. But most importantly, as we celebrate Juneteenth in recognition of the liberation of the African American slave, now is the time to free our college athletes from the bondage of the chattel system of college sports."
Sens. Skinner and Bradford's announcement about SB 26 occurred on the same day that the U.S. Supreme Court issued a decision against the NCAA in the case, 'National Collegiate Athletic Association v. Alston." The court ruled that the NCAA must abide by anti-trust laws and does not have blanket authority to deny the rights of college athletes when it comes to compensation.
Since Gov. Gavin Newsom signed SB 206, the Fair Pay to Play Act, into law in September 2019 on LeBron James' HBO show, 18 other states have followed in California's footsteps and enacted similar laws allowing college athletes to earn money from the use of their name, image, and likeness. NIL laws in seven states — Alabama, Arizona, Florida, Georgia, New Mexico, Mississippi, and Texas — will go into effect this year.
The Fair Pay to Play Act had an implementation date of Jan. 1, 2023. SB 26, this year's follow-up measure, sought to move up the date to Jan. 1, 2022. The new amended version of SB 26 would advance the date to Sept. 1, 2021.
The Sept. 1 implementation date makes SB 26 an urgency measure, which means it needs a two-thirds vote in both houses of the Legislature to pass. To date, SB 26 has garnered strong bipartisan support, has no opposition, and has received no "no" votes. SB 206 also received no "no" votes in the Legislature in 2019.
Senators Skinner and Bradford also decided to include community colleges in the Fair Pay to Play Act after a community college working group recently recommended that they be added. The working group was created by SB 206 and spent more than a year studying whether community college athletes should also be granted the right to their name, image, and likeness. The California Community Colleges Chancellor's Office supports the addition.
SB 26 would also allow college athletes to earn compensation from what is known as "athletic reputation," which will ensure that an athlete can identify the name of their college or university in endorsements and advertisements.
SB 26 now goes to the state Assembly Higher Education Committee for consideration on June 29.